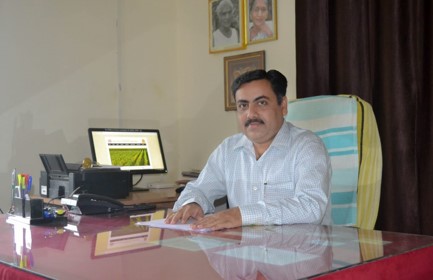 Hon. Principal
Dr. S. S. Potdar
Dear Students, Faculty, and Guests,

It's more than half-century now that Anand Niketan College of Agriculture, Anandwan, Warora has been producing top-notchers year after year in the university. Equipped with all modern amenities and facilities, the college has always been striving hard to provide the latest and scientific knowledge to learners. Our students have, time and again, amply proved that they are second to none! Founded with the blessings of Late Baba Amte, the college has beyond doubt carried forward his vision of serving to those who are forgotten by the society. The 'Former' has always been at the crux of all activities of the college. Be it its most modern laboratories, richly furnished library or digitally advanced class rooms, the college reflects a very carefully and scientifically blended approach of conventional wisdom and modern academic excellence.
The college has produced a multiplicity of enlightened souls who have adorned many posts of highest importance in the country and abroad. The latest star in the galaxy of this college is Dr. Krishna Ella, Chairman and Managing Director of Hyderabad based "Bharat Biotech International Ltd." Who has given "Covaxin" to the world thereby saving millions and millions of precious lives afflicted by dreaded Corona virus. The college occupies a place of prominence in Academic, research and extension activities not only in the University but also in entire state and country. Our college is not just a place of education; it is a vibrant community where students forge lifelong friendships, build networks, and develop leadership skills. We value inclusivity, diversity, and mutual respect, and we strive to create an environment that develop budding students to the responsible citizens. Our college campus provides a serene and conducive atmosphere for learning, with good facilities, library,sports, and student support services to ensure a holistic educational experience.
Beyond the classroom, we offer numerous opportunities for students to engage in extracurricular activities, participate in research projects, and gain practical experience through internships and industry partnerships. We shall continue to work hard for overall welfare of our learners in times to come! We have extensive plans to augment the facilities and resources of the college in the future. We are committed to start Post Graduate classes in as many subjects as we can in near future in this neglected region of Maharashtra so that the fruits of higher education are not unreachable to learners of this district. We seek unending cooperation and support from all in our endeavor.